Getting Sentimental: Using Emotional Signals in Reveal 11
In September 2021, I wrote a post about using sentiment analysis in Reveal 10, Getting Sentimental: Using Emotional Signals in eDiscovery. Today's post is an update, looking at using sentiment analysis in Reveal 11.
Sentiment is "the emotional significance of a passage or expression as distinguished from its verbal context." As litigators, investigators, and the people who support them, if we can find and analyze sentiment in discovery documents then we greatly improve our ability to figure out who did what, when, where, how, and most notably why.
At Reveal, we use a form of artificial intelligence we call Emotional Intelligence to detect seven types of sentiment expressed in text. We score those sentiments on a scale from 0 (neutral) to 10 (highest). You can use those scores to search for the expressions of each of the types of sentiment.
While you can use Emotional Intelligence on its own, you likely will find you get more compelling and useful results when you combine sentiment searches with other types of searches such as keyword, concept, metadata, and entity searches.
Our Seven Types of Sentiment
The seven types of Emotional Intelligence you can search for in Reveal 11 are:
Positivity: Looking for content that tends to the positive and optimistic.
Negativity: Looking for content where people discuss negative things, which can lead to discovering conversations about problems.
Intent: Looking at someone's intention or purpose. "I will do this."
Opportunity: Looking for circumstances making it possible for someone to do something. "I can do this."
Pressure: Looking for attempts to persuade, influence, intimidate. "You must do this."
Rationalization: Looking for attempts to explain or justify. "It's okay to do this because…."
Roundabout Style: Looking for situations where someone is being evasive or attempting to avoid the truth.
Our Emotional Intelligence scores range from zero to ten. They are normalized to your data set. If, for example, you have data from an organization where communications generally are very positive, without normalization you might find that the average Positivity score for those documents was a 7, an 8, or even a 9. With normalization, the average is brought back to the middle, allowing you to search for content more effectively across the spectrum from zero to ten.
We group Emotional Intelligence scores into five brackets:
Unscored: Documents that have not been scored have the lightest color. These are documents such as ones that do not contain text and hence have no content to score.
Neutral (0): Next comes documents with a neutral, or zero, score. These are documents whose content does not reflect the specific form of emotional intelligence, such as positivity or negativity. Examples might include spreadsheets containing only numbers, files consisting of programming code, and bland correspondence.
Low (1-3): Low documents are ones that scored for a mild level of the relevant emotional intelligence.
Medium (4-6): Medium documents scored for a moderate level of emotional intelligence.
High (7-10): High documents scored for the highest levels of emotional intelligence.
As you will see, you can search by bracket or you can search by score.
Performing Sentiment Searches
We offer various ways to search for sentiment. Here are three approaches you can take: using the Emotional Intelligence widget in the Dashboard, using the Filters Panel, and using Advanced Search.
Emotional Intelligence Widget
The Dashboard is often the first thing users see when they enter Reveal 11, the control center for the platform. It contains project data, visualizations, filters, and search and analytical tools. At the bottom of the dashboard is the Emotional Intelligence widget:

In this example, we can see an overview of the Emotional Intelligence scores for the content in our dataset. All seven forms of sentiment analysis are shown. For each form, there is a color-coded bar. Within each bar, there are differently colored segments. The higher the Emotional Intelligence score, the deeper the color:
If you let the mouse hover over one of the color-coded segments in an Emotional Intelligence bar, you can see how many documents in your population meet the criteria for that segment. Here, by hovering over the rightmost segment of the Roundabout Style bar, I can see that in my set of 1,216,205 documents there are 8,217 documents with a score of between 7 and 10 for Roundabout Style – documents where the platform has calculated that someone is being evasive or attempting to avoid the truth:

If I click on that segment, it is added to my search and the Dashboard view (along with the Grid, Custers, and Heatmap views) automatically is updated to show the search results. We see that search, Roundabout Style: 7 to 10, in the search bar at the top; an updated document count, 8,217 of 1,216,205; and a Roundabout Style bar in the Emotional Intelligence widget showing exclusively documents with in the high range: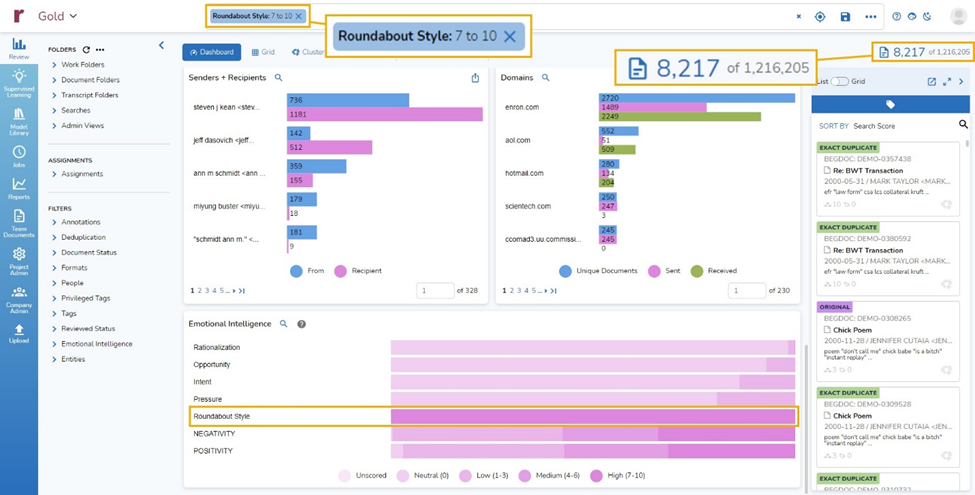 Here are the same search results in the Grid view, sorted from highest Roundabout Style to lowest: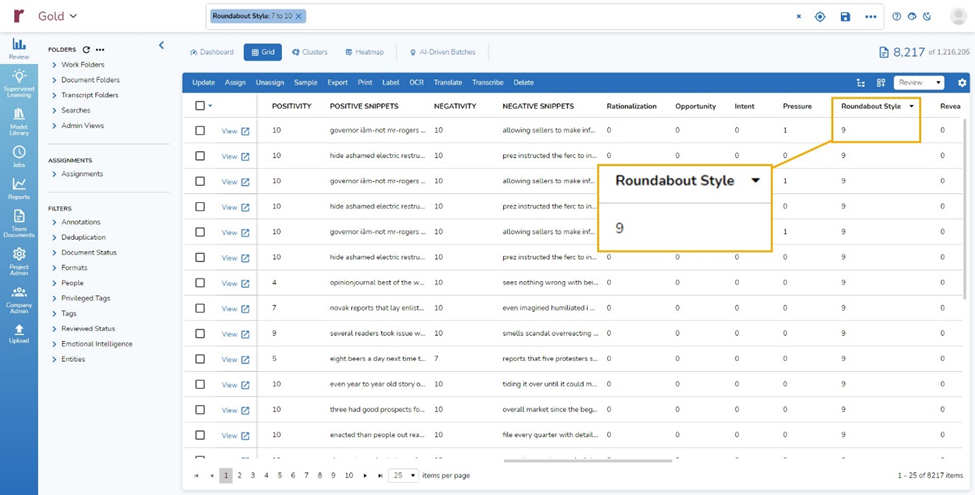 Here are the same results in the Clusters view, with the clusters containing the highest scoring content in white and those with the lower scoring content in darker color clusters: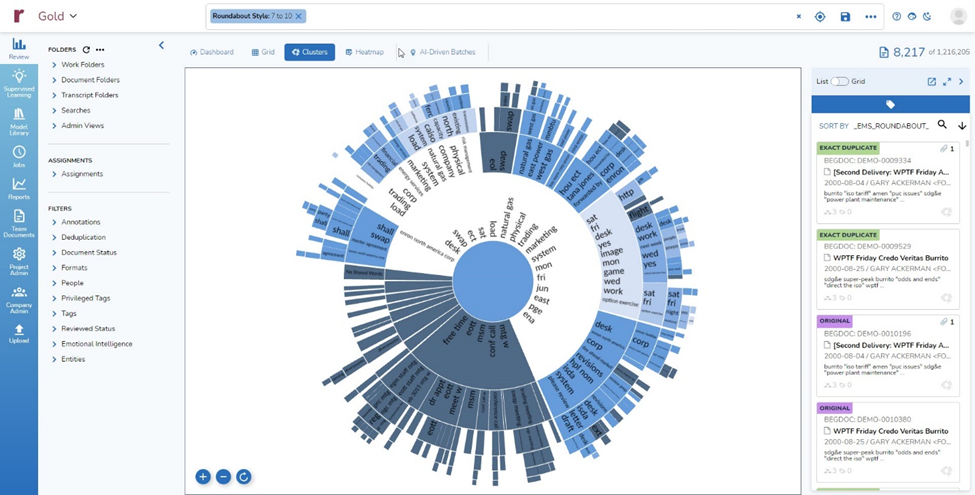 And here are the results in the Heatmap view, set up to show counts by custodian, in descending order, and file extension – and suggesting that of those custodians for which there is data, Steven Kean used the Roundabout writing style the most: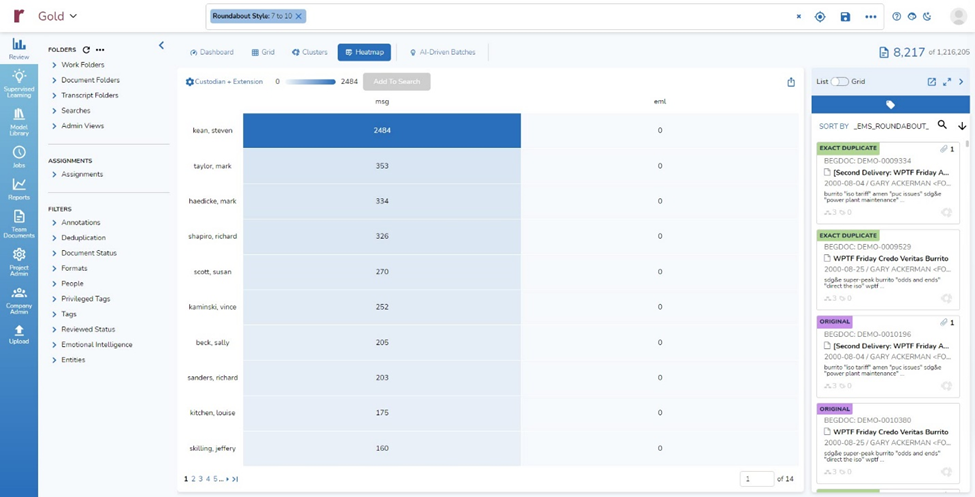 Filters Panel
A second way to search for documents by Emotional Intelligence is via the Filters panel on the left side of the window: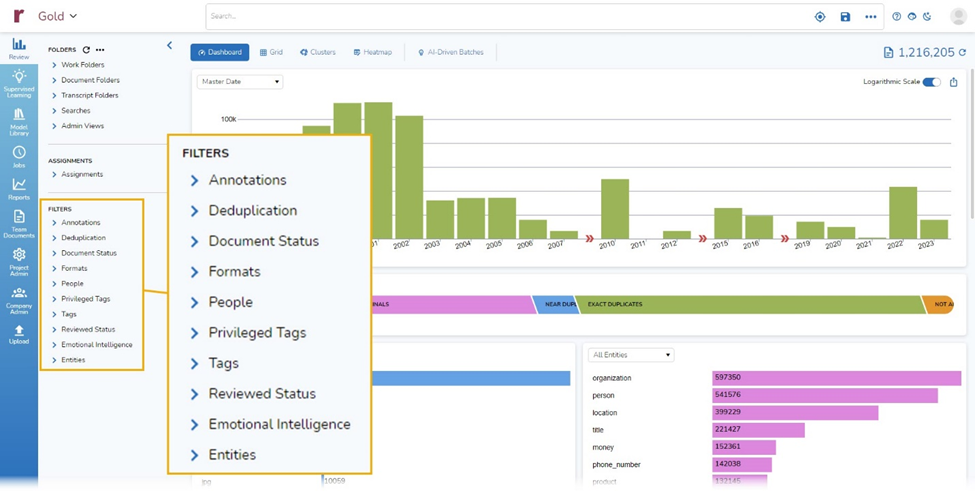 By drilling into the Filters in the Filters panel, you get to clickable options. These options give you an overview. If you click on them, they are added to your search. Here, I clicked on Emotional Intelligence and then Intent to see the options under Intent as well as document counts for each option: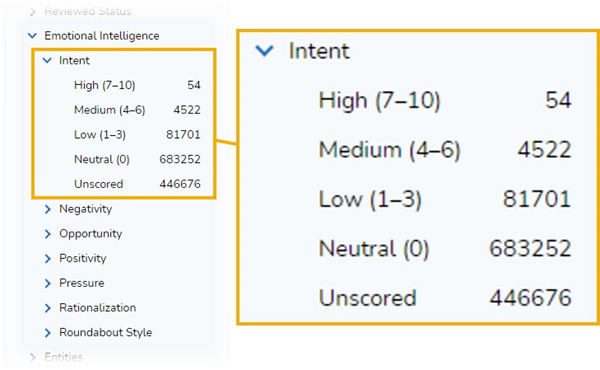 When I clicked on High under Intent, Intent: 7 to 10 was added to my search which brought back 54 documents. At the same time, the information throughout the Dashboard was updated: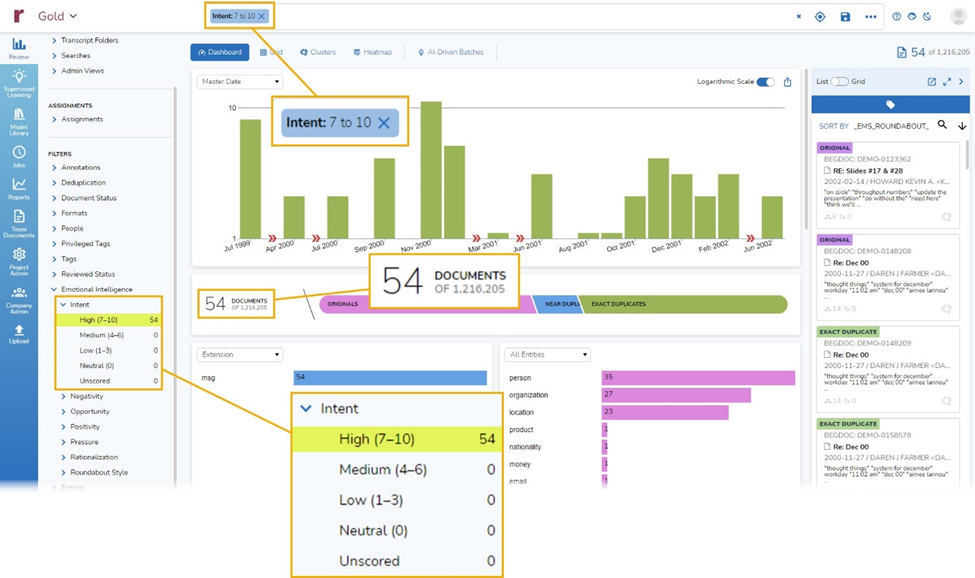 If I click on another Emotional Intelligence filter, I can see updated numbers for that filter. Here, I clicked on Pressure. I can see that of the 54 documents containing content with a high amount of Intent, there are 15 that also have a medium Pressure score – 15 documents where the content suggests a high degree of intention (I will do this) and a medium degree of pressure (You must do this):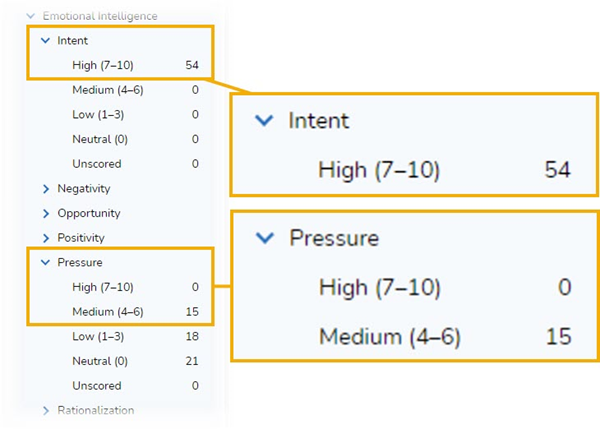 Clicking on Medium Pressure adds that filter to my search, taking me to those 15 documents: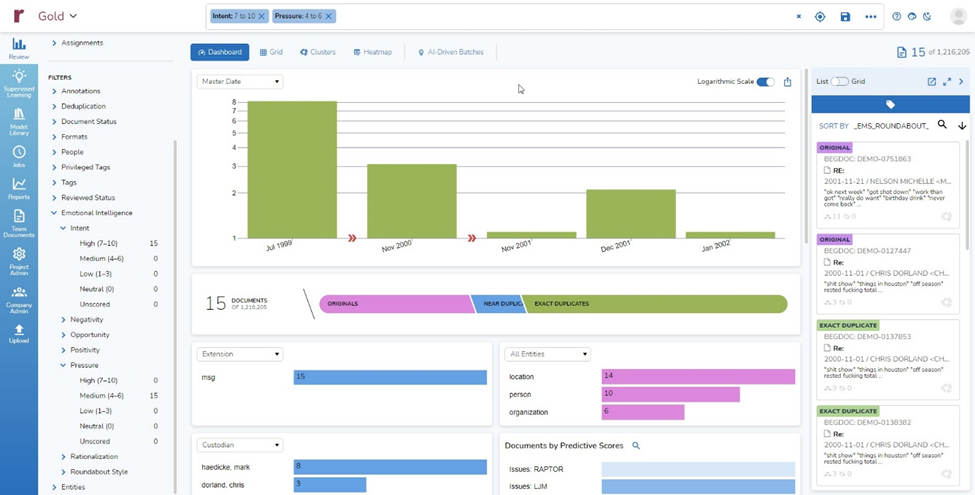 If I click in the Search Box, I can see more details about the search I formulated by clicking on the Filter options:

Advanced Search
A third way to search for sentiment is with Advanced Search.
In the upper right corner of the window, click on the button with three dots to open Advanced Search: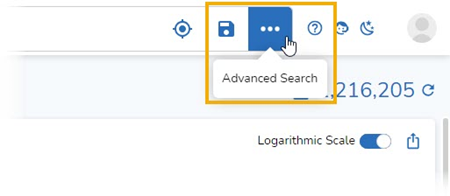 Next, click on the +Add button and click on Emotional Intelligence. That will display the lists of Emotional Intelligence types to choose from: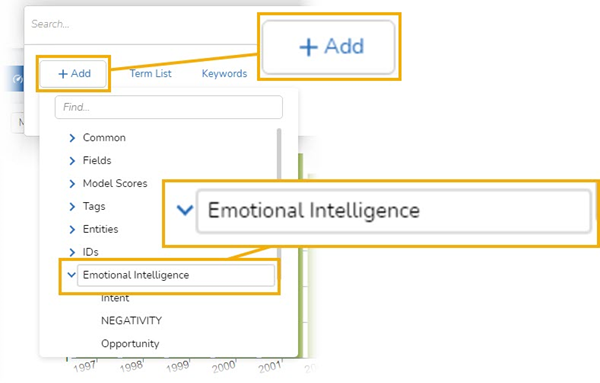 When you click on one of the forms of Emotional Intelligence, a model pops up. You can use that modal to select the score or scores you want to search for. Here, I selected Negativity. I can enter a low score, enter a high score, use the slider to select scores, or check the box for no score, and add that to my search: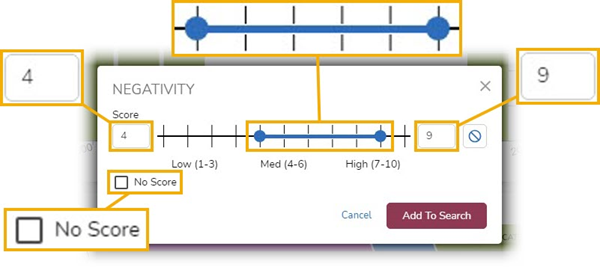 Combining Sentiment Searches with Other Capabilities
As I mentioned at the beginning of this post, sentiment analysis gives the most powerful results when combined with other capabilities. Here is one example of that approach, which combines a search for sentiment with an AI model from Reveal's Model Library.
To find accounting irregularities, channel stuffing, or similar activity, I might put together a search that looks for documents that (1) contain a high level of negative sentiment and (2) get high scores with an AI model designed to identify communications about pricing or fees for a good or service with colleagues, clients, or outside vendors.
To do that, first I prepared a search for documents with high Negativity scores, ones from 7 to 10:

Next, I added a search for documents with high AI pricing model scores. In Advanced Search, I clicked on the +Add button and clicked on Model Scores: to see the available AI models with scores: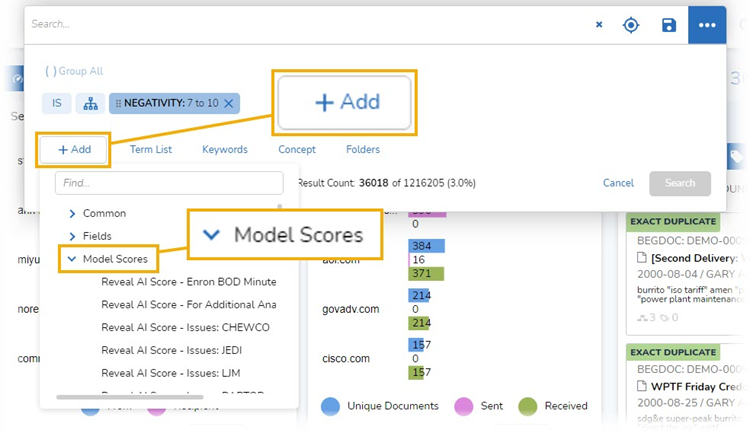 I scrolled down to the model I want, Reveal AI Score – RAI Pricing: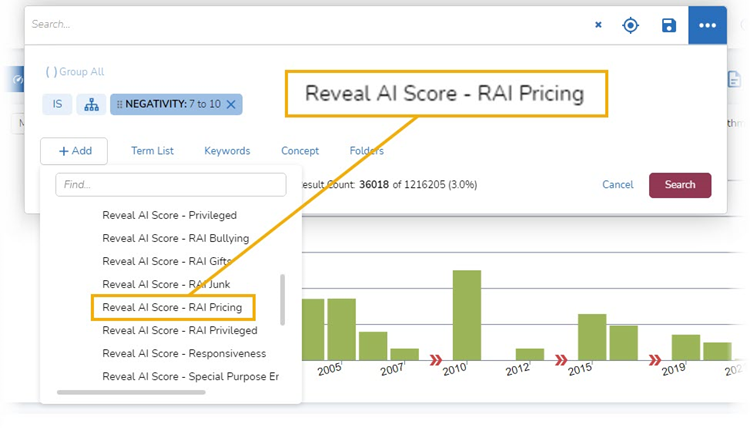 I set the model scores to be searched for at high, from 70 to 100: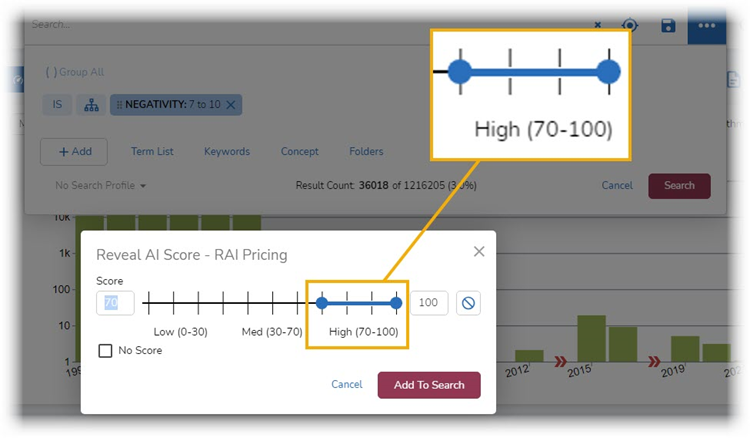 I added that part to my search, making sure that I used an AND connector between the two parts of the search:

This brought back 790 documents, which I could then begin to evaluate.
Learn More
As you can see, the ability to search for content expressing sentiment opens opportunities to investigate your data in ways traditional approaches to search cannot match. If your organization is interested in learning more about sentiment analysis and how Reveal uses AI as an integral part of its AI-powered end-to-end legal document review platform, contact us.