When eDiscovery meets Pop Culture
Few things in this world give me as big a chuckle as when the Netflix show I am bingeing or the Movie I am watching has a subtle, or not so subtle, reference to eDiscovery. In those moments, my never-ending quest to demystify electronically stored information and all things legal technology seems within reach or at least closer to mainstream understanding!
Almost two decades ago, when I first dipped my big toe into eDiscovery, trying to explain to my parents or a friend what the heck I did was challenging to say the least! When even some senators thought the internet and cloud computing consisted of interconnected tubes and Meta had more to do with physics than data, it was no surprise people remained baffled! But times have changed and everything from Metadata to Legal Artificial Intelligence has gone more mainstream!
Captain Jack, Aquaman & Metadata oh My!
Televised high profile trials are far from new, but, not since the OJ Simpson trial has the country tuned in en masse and discussed at length a single case at this level. It should be no surprise given that the parties involved in this high-profile defamation suit are bonafide Hollywood A-lister and frequent pirate, Johnny Depp and his Hollywood starlet ex-wife and occasional sea goddess wife Amber heard.
If you go beyond the cheeky twitter hashtags (#amberturd) and the substance of the case itself, what caught my eye was the in depth analysis of things like chain of custody for certain digital evidence, presence (or lack thereof) of metadata for digital images provided to the opposing counsel during the eDiscovery process, and the overall discussion of the authenticity and admissibility of various forms of electronically stored information. Both parties had a treasure trove of ESI from a wide variety of data sources submitted as potentially relevant electronic evidence. Clandestinely filmed videos, a variety of images with varying levels of complete metadata, emails, text messages, social media posts and traditional media sources were all represented in the electronic data presented by both sides for the discovery process and in the courtroom itself.
Not since OJ Simpson's glove has the integrity and meaning of various pieces of evidence (Mainly digital in this era) been more hotly debated. And of all the things on my 2022 bingo card, having Captain Jack Sparrow and Mera from Aquaman discuss metadata was most certainly not on the list!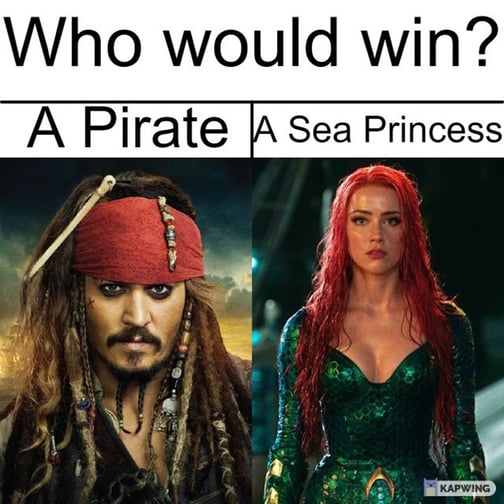 Deflategate
Lets hop in the wayback machine, to an oh so distant 2015... back when the Patriots were the undisputed leaders of the pack in the NFL and their star, Tom Brady was crowned the Greatest of all time (GOAT) by many fans. This was also the year that the GOAT was being threatened with having to sit on the bench for much of the beginning of the season because of destroying and failing to provide cell phones and other digital evidence relating to a claim of deflating (under inflating) game footballs specifically at the AFC Championship game with the Indianapolis colts.
Ultimately the commission's 4 game suspension penalty for participation with deflate gate and subsequent destruction of phone and text messages in the four months following the game was appealed to civil court.
In Nat'l Football League Mgmt. Council v. Nat'l Football League Players Assoc., the court heard that , on the day Brady was to be interviewed by the investigation team, he instructed his assistant to destroy the cell phone used during the relevant time period, "despite knowing that the investigators had requested information from the phone several weeks before." Sticking squarely to the cell phone issue, and not the larger question of inflation, the court rendered an adverse inference against Brady because of this "failure to cooperate fully and candidly with the investigation, including by refusing to produce any relevant electronic evidence (emails, texts, etc.)."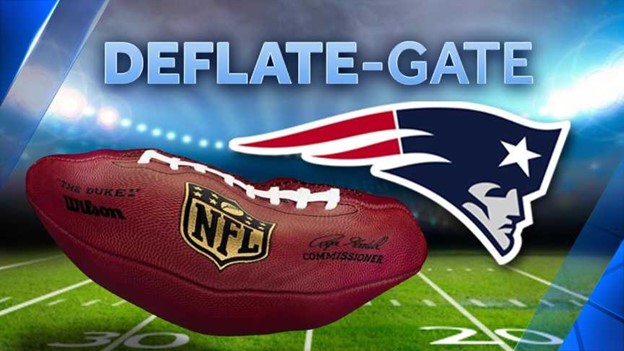 Spoliation & Succession
HBO's runaway hit about a family run media conglomerate and the messiness that occurs when power is shifted might not be something that immediately makes you put on your eDiscovery hat. But that is precisely what happened when the shows newly promoted costar is involved in destroying bankers' boxes of incriminating evidence relating to internal investigations, sexual harassment and even murder. Can you say SPOLIATION!?
Destruction of legacy data is not by itself problematic, but when you factor in that the destruction was outside the normal information governance practices of the business, at least some of the data was likely subjects to retention obligations or even legal hold notifications and handled in a less than defensible manner by cousin Greg... some flags most certainly ought to be raised.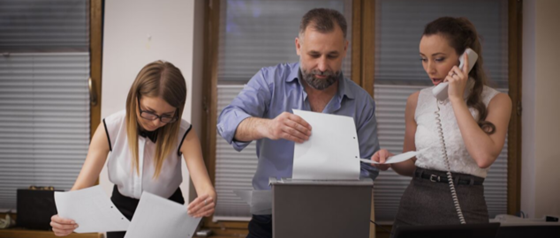 Panama, Paradise, and Pandora's Papers, Oh My!
While many of the other examples of eDiscovery in pop culture surround the legal team's or client's mis) behavior when it comes to evidence and complying with legal orders, the series of massive multinational leaks over the last few years shine a spotlight squarely on the eDiscovery platforms used to connect the data dots.
Comprised of a total of a combined nearly 7 Terabytes of data and relating to global financial crimes up to and including movie stars and heads of state, these leaks made headlines, and so did the eDiscovery solutions sed to parse them.
The organizations trusted with the data leaks have relied on eDiscovery and other data analytics tools to quickly parse and surface the most relevant information from each leak rather than going it alone on the herculean task. Shining a light on how eDiscovery tools can be applied to data journalism.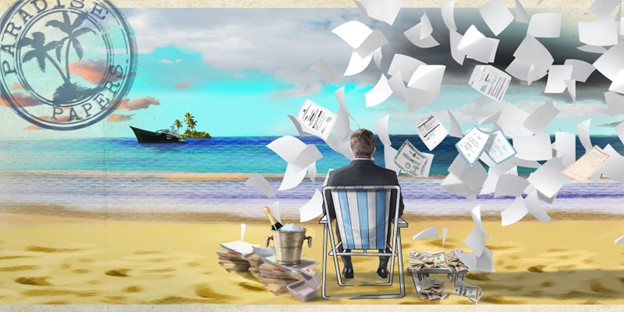 Hillary's Emails
While bleach bit, taking hammers to cellphones and servers in a bathroom are not the least bit of a defensible information governance and data retention policy, they have made explaining what I do at a cocktail party far easier! The story of Hillary Clinton's emails polarized the nation and contributed to the election outcome... but the silver lining was that it made eDiscovery a household word.
During the 2016 election, an investigation into emails purported to be from a private server in Hillary Clinton's home found on Anthony Weiner's laptop became a central issue and through the application of eDiscovery tools and analytics, the FBI conducted a document review on a data set of roughly 650,000 emails to identify work related or confidential information. Presidential candidate, at the time, Donald Trump Quipped at a rally "You can't review 650,000 new emails in eight days," he told the crowd. "You can't do it, folks."
But the exercise highlighted that with proper threading, deduplication and application of keywords and analytics this herculean task is more manageable. This moment of pop culture helps me explain electronic discovery with this simple sentence these days "you know how the FBI went through 650k emails for Hillary in a week? Yeah, I work with the tech that makes that possible!"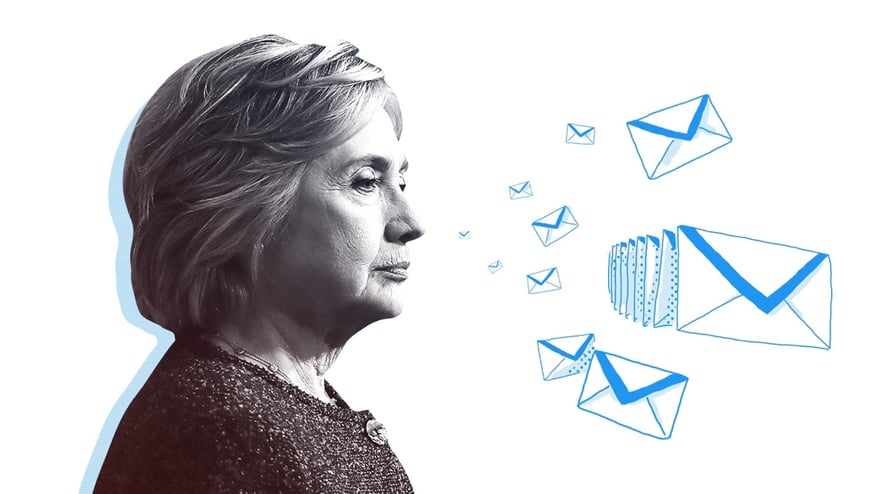 Bankers Boxes for Brokovich
Set in the early 90's, Erin Brokovich predated the amendments to the Federal Rules of Civil Procedure that added electronically stored Information to the discoverable list by will over a decade and a half. But discovery (without the E) was still at the heart of the leading legal film. Several scenes in the film are set in a small firm that is overflowing with banker boxes of paper discovery and the leading lady is show reading paper documents, lugging boxes and flipping manually between files late into the night.
There is a telling scene later in the film, when a larger firm with digitized files and search capabilities is called in and a junior associate questions the integrity of the manually collected and filed data in the smaller firm. In classic Hollywood form, Julia Roberts recited the stats on a particular plaintiff without missing a beat... but this folks is Hollywood not real life! Tools and tech are a life saver these days... if you ever want to feel gratitude for the awesome tech we have now, this is a must watch!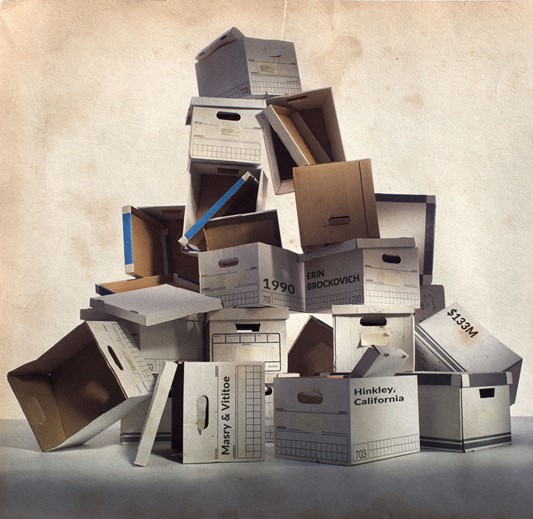 Bates Stamp Blues for Better Call Saul
Saul Goodman, the smarmy billboard lawyer first introduced on Breaking Bad and now the star of "Better call Saul" is not a lawyer any of us want to emulate. But the show is doing a pitch perfect job of reflecting the massive pain the in the butt large scale discovery for a class action can entail, especially when most of the records are paper!
I had a giggle and could not help but share when I spied a rogue set of physical bates stamps in a shot during one of the scenes in a room with bankers' boxes of paper as far as the eye could see.
It is a good reminder that for some law firms and case types, the process may still be much more manual than anyone would like to believe! Just check out this quote from Above the Law if you do not believe me "As a litigation associate who graduated law school only a few years ago, I was fascinated and mildly horrified by Better Call Saul's depiction of document review in the early 2000s." What Saul would not give for some handy eDiscovery software and digital bates stamps!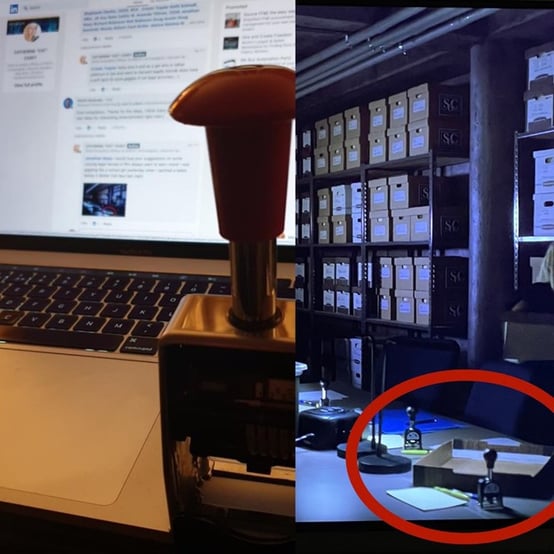 What Theranos [Almost] Got Right
There are entire courses on the behaviors not to emulate as a business leader based on the case study of Elizabeth Holmes and Theranos, but in the recent Docuseries they got something right! There is a scene in the series where a tech is chastised about sharing a poor result "don't put that [Theranos test results] in email, it's searchable." It was a tiny throwaway line, but it does highlight that folk are getting savvier about what can be discovered by the legal department, outside counsel or an opposing party. And, omitting something from your digital record does not carry the same penalty as sanctions for spoliation!
Despite this moment of clarity as to the permanent digital record, the case still had a smoking gun email, one where Holmes compared herself to famed Ponzi Schemer Bernie Madoff. So legal professionals need not fret that stakeholders in a case are too savvy when it comes to digital evidence...yet.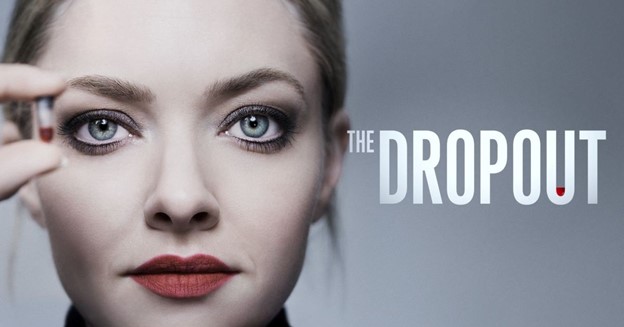 But wait there is more...
Other honorable mentions include John McAfee being foiled by geolocation metadata on a twitter picture and Gabby Petito's body being found using a combination of social media posts, text messages and TikTok videos.
Did I miss any major ones my legal eagles?