The Future of eDiscovery is all about 'Choose your own Adventure'
Why the one-size-fits-all era of eDiscovery is coming to an end
For the last decade, when it came to which platform(s) a litigation support or eDiscovery professional was going to use, it was not a question of which platform, but merely where you purchased it from. A formerly fragmented eDiscovery landscape once rife with proprietary platforms and alternative data formats centralized around a single technology.
In the last ten years, the volume, variety, and velocity of eDiscovery data coupled with increasing sophistication of corporate clients and their counsel has created an unanticipated variety of use cases and specification for legal practitioners in the eDiscovery space. In the future of eDiscovery, a single monolithic solution will no longer suffice in every instance. Instead of asking this or that when selecting legal tech, I say why not take all of the above!
In the cases of complex legal matters, evolving client demands and a proliferation of downright weird data, eDiscovery programs require a more scalable, adaptable and bespoke approach. In truth, each legal program is a bit of a special snowflake when it comes to the deployment requirements, functionality and suite of AI they require… and eDiscovery solutions need to be nimble enough to meet each unique set of needs.
To Cloud or Not to Cloud?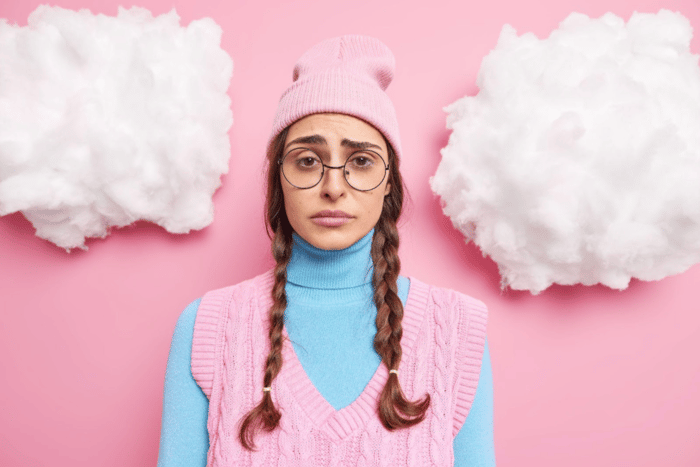 From the proliferation of high profile legal cyber breaches in the last year, to the cost of continually scaling to meet the exploding data volumes and the challenge of keeping pace with the proliferation of new data sources, the allure of staying firmly on premise is certainly dwindling. While the work from home revolution over the last 18 months has cemented for many the long term necessity of moving to the cloud, for legacy cases and specific outside counsel guidelines or regulatory considerations it is not as easy as flipping a switch to make this move.
As enticing as it may be to let go of fear and learn to love the cloud, it cannot always be done in one fell swoop. Often organizations will have ongoing requirements to manage existing matters in an on-premise system and if it is not an obligation, few want to fully migrate a matter mid-way through. Having done that a few times in my career, I can most certainly speak to the pain from first hand experience. Having solutions that can be deployed in the public cloud, your own private cloud, on-prem or mobile appliances for sensitive matters that need to stay within certain jurisdictions allows organizations to take the step into SaaS solutions at the pace that works for their risk appetite, culture and client expectations.
The Full Spectrum of Legal AI
When it comes to legal AI, I am the first to admit I have taken the blue pill, drunk the kool aid and bought into the amazing impact artificial intelligence can have on rapidly surfacing evidence and insights in large, unstructured data sets. But, for many in the legal industry, the full power of AI may not be something they want (or are able) to wield on every matter, or even at all. And that is alright. When it comes to AI in the eDiscovery process, there is a wide and varied spectrum of applications that can massively benefit organizations and legal teams of any size and level of sophistication.
The nice thing about having a flexible ecosystem at your fingertips as a legal professional is that you can pick and choose the right combination of technology to meet your organization's needs and appetite to use more new technology. If all your team wants is email threading, any analytic solution will work. Whereas if you want a Netflix like experience where you can pick and choose the right model to accelerate your document review, then Reveal AI is where you want to go! From advanced visualization to powerful but intuitive Technology Assisted Review, having the choice of which tool you bring to a matter and how you deploy it is as critical as having a full toolbox as a carpenter. Say goodbye to the days where everything is like a nail because all you have at your disposal is a hammer!
From Turnkey to Self-serve
Flexibility is also critically important when it comes to how you and your case team want to interact with the technology. If you have a robust program jam packed with deeply knowledgeable project managers a more self-service approach may be ideal, whereas if you are a leaner team or one with managed services in place the ability to engage with technology via your trusted service provider is key. And, if you have a program like I did at Gibson Dunn you need the flexibility to choose on a case by case matter whether you insource or outsource without having to switch to a different technology. There are differing use cases and times when a program would go self-service vs. service provider or managed services, and that is ok.
Nimbleness is about more than just the stack of technology that is deployed, it relates to what the tech can do and just how much of its functionality is dependent on you and your case team. By having tech that seamlessly plugs in with the leading legacy tech, robust strategic alliances with the leading service providers and an intuitive tool that savvy legal practitioners can engage directly with, we have covered all the bases.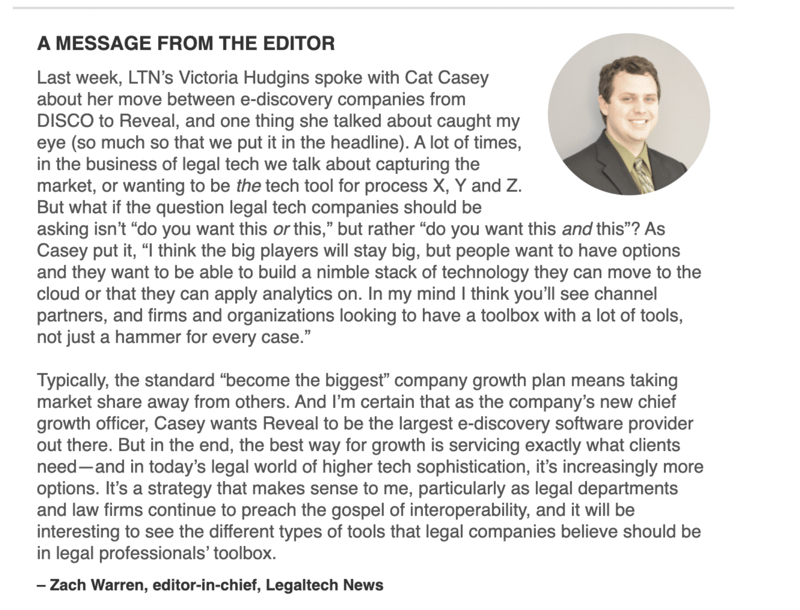 Legacy, Next-gen or a Combination of the Two?
In a recent letter from the editor, Legal Tech News' editor-in-chief, Zach Warren highlighted that in an industry where there seems to be a never ending battle to be the biggest man (or woman) on campus, the question tech companies should really be asking is not us or them, but rather do you want us AND them as part of your adaptable stack of legal tech solutions. Many of the leading next gen organizations are, by nature, a full replacement of the leader in legal tech. We see that as the wrong approach.
Relativity is the market leader for a reason, and for us to succeed they do not need to fail. We can both thrive together, as is evident by our powerful integration of Brainspace into Relativity. Clients can choose to have a workflow that relies solely on Reveal, on Reveal and Brainspace or on Relativity and Brainspace with the approach our company has taken. Because our aim is to meet client needs where they are today and support their evolving needs in the future of eDiscovery, whatever they may be.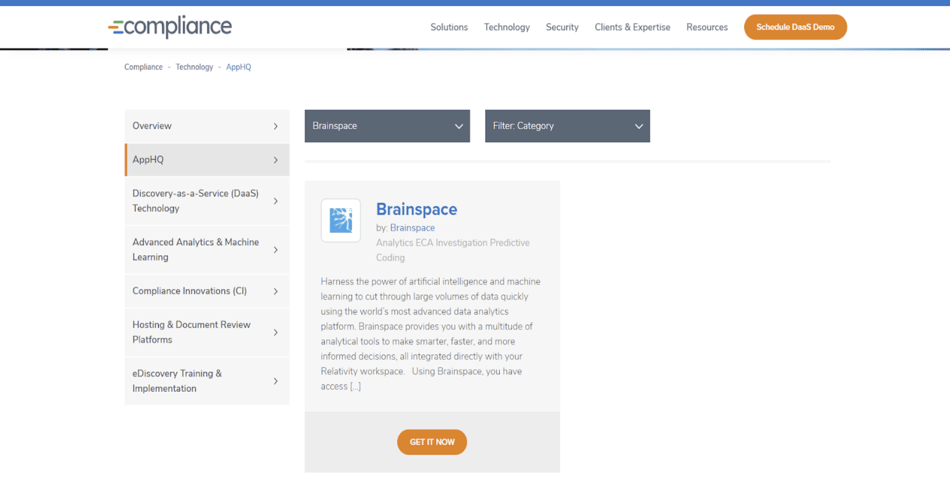 Making Discovery App Store Easy
My company is not the only organization that has embraced the need for freedom of choice in the legal technology space. Reynen Court made waves several years ago when they envisioned a legal tech AI marketplace where law firms could engage with cutting edge legal AI in a secure Renyen controlled sandbox. Leading eDiscovery company, Compliance, and CEO Marc Zamsky have taken this choose your own adventure approach to heart and delivered an industry first for eDiscovery specifically with the launch of their AppHQ which brings the seamless interface of Apple's App Store to electronic discovery practitioners.
"Compliance developed our Discovery-as-a-Service ecosystem to provide our clients with curated technology choices for any type of case, or sophistication level of any user. The App HQ allows both our DIY and fully supported clients to have full control over which platforms, apps, innovations, and technologies are enabled for their firm, user, or matters. DaaS is also integrated with a centralized user credentialing system allowing users with a single logon to access any tech, like Brainspace and Reveal AI. This type of deployment provides our clients with more control, choice, and ease for any type of matter---a true ecosystem of legal technology backed by professional services, which is what clients are demanding today."
Embrace Your Inner Goldilocks
At the end of the day, it is OK to accept that your program may require a more tailored approach to legal AI and legal technology broadly and stop settling for eDiscovery software solutions that aren't just right for your review process. The future of eDiscovery will be an industry where there is no shame in accepting and embracing the unique company culture, infrastructure and demands of your organization and increasingly the legal tech companies that thrive will be the ones that are as nimble as you need to be!
---