2020 – A Year in Digital Review
Year's end is just around the corner, and it's been a year like none other (and we don't mean COVID-19).
NexLP joined Reveal, bringing its cutting-edge AI and premier data science team lead by Jay Leib. EDRM co-founder George Socha joined as well, and promptly kicked off the popular eDiscovery Leaders Live series with thirteen interviews to date. Reveal upped its game with Version 10, a modernized and redesigned version of our platform.
Service provider, law firm, and corporate clients launched new relationships with Reveal or built on existing ones. Those launching new relationships included the service provider Orbital, the KRCL law firm, and the contracting, management, and design-build firm Balfour Beatty, all of whom engaged Reveal as their preferred eDiscovery platform. Prominent examples of clients building on existing relationships included Epiq, which announced a global artificial intelligence enterprise licensing agreement; DLA Piper, which partnered with Reveal to develop a suite of groundbreaking AI solutions; and Pillsbury, which expanded the firm's access to Reveal's complete next-generation platform.
We upped our posting game as well, covering a wide range of issues. We hit on trends, wrote about budgets, remote work, and the future of legal review. We looked at what eDiscovery companies get wrong and offered advice on ways to get eDiscovery right. We examined artificial intelligence – what it is; where it does, could, and should fit in the world of eDiscovery; and ways to use it such as with translation and image detection and classification.
I had great conversations with eDiscovery leaders. Wendell Jisa and Jay Leib talked about Reveal's acquisition of NexLP. Aaron Crews (Littler) talked AI, Jon Lavinder (Epiq) discussed TAR, and Manfred Gabriel (Holland & Knight) looked at the future of eDiscovery. Rich Robinson (Toyota) gave us our first in-house view. Udi Hershkovich (AWS) took as back to AI while Ron Best (Munger, Tolles & Olson) laid out his vision for the eDiscovery platform of the future and Ron Tienzo from Construction Discovery Experts upped the game with his retro visual aids. Aaron Bath (Balfour Beatty) brought another in-house perspective, Rachel McAdams (A&L Goodbody) discussed differences between eDiscovery in the US and Ireland, and Martha Louks (McDermott Will & Emery) talked about building a fuller picture of the case. Luke Smith (LTI) compared and contrasted discovery under civil and common law systems and Joy Murao (PAR) closed the season emphasizing the importance of training and education.
Acquisitions and Key Milestones
Reveal has been active this year, most notably with a key acquisition, new people, and a new interface.
Topping the list is Reveal's acquisition, in August, of NexLP. With the acquisition, Reveal became the market-leader in AI-powered, end-to-end eDiscovery. Reveal brought the most comprehensive, solutions-oriented technology on the market with best-in-class processing and review software, a global footprint, and the ability to deploy this solution in the cloud and on-premise. NexLP added cutting-edge artificial intelligence technology that turns disparate, unstructured data into meaningful insights, and brought along with its premier data science team and its co-founder and CEO, Jay Leib, who joined Reveal's leadership team as its EVP of Innovation and Strategy.
In September, George Socha, co-founder of EDRM, joined Reveal as SVP of Brand Awareness. Socha bolsters Reveal's leadership team with more than three decades of experience as a lawyer, advisor, and expert witness. He has guided clients through virtually every facet of eDiscovery from the earliest efforts at effectively governing information through the persuasive presentation of ESI in court. At Reveal, he helps guide development of the product roadmap and consults with Reveal customers on effective deployment in legal technology.
Also in September, Reveal launched the already-popular eDiscovery Leaders Live series. Friday mornings at 11 am ET, George Socha dons a headset and settles down to chat with a leader in eDiscovery or related areas. Sponsored by Reveal, eDiscovery Leaders Live is hosted by ACEDS. More about the series below.
Reveal continued the push in October, announcing the release of Version 10 of its platform and a new user interface. Reveal modernized and redesigned its eDiscovery platform to enable customers to spend less time navigating the tool and more time achieving positive results. Available in all deployment models – cloud, on-premise, hybrid, and mobile – the new version boasts a bevy of new features and upgrades. These include an industry-first "dark mode" interface, a completely restructured search functionality, predictive search, and AI-driving transcription and image detection and classification capabilities.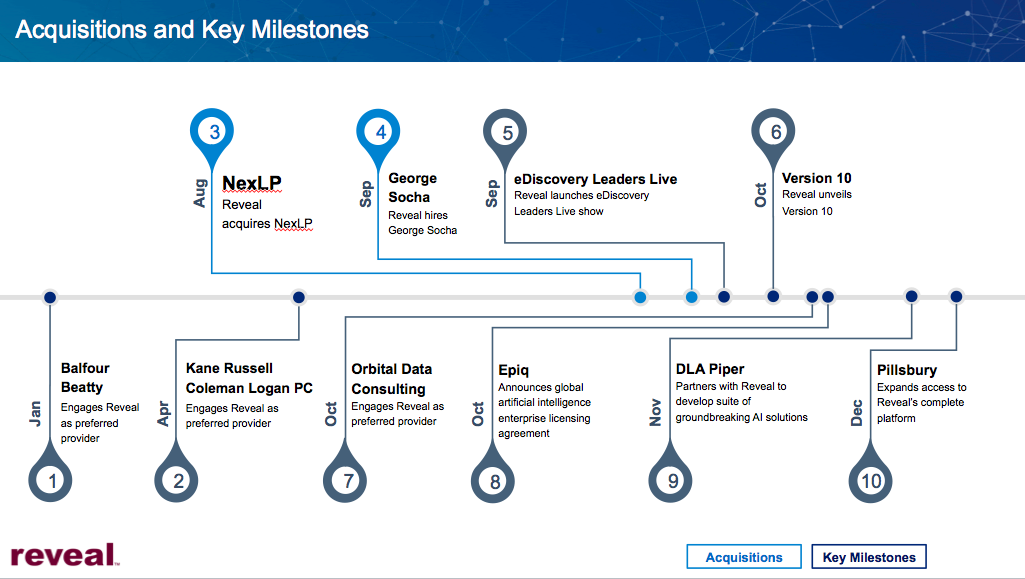 Reveal's clients have been active as well, with current clients expanding their relationships with Reveal and new ones joining the fold. Here are some of the highlights.
In January, Balfour Beatty US engaged Reveal as its preferred eDiscovery provider in the United States. An industry-leading provider of general contracting, at-risk construction management and design-build services, Balfour Beatty spent much of 2019 identifying and implementing new tools and functionality for electronic data processing, discovery and review. Balfour Beatty selected Reveal's eDiscovery solution because it allows for the self-performance of eDiscovery processing, data analytics, utilization of sophisticated artificial intelligence models for technology-assisted review and a consolidated document review platform that can be used across their U.S. business.
In April, the law firm of Kane Russell Coleman Logan, PC engaged Reveal as its preferred eDiscovery
provider. By selecting Reveal, KRCL is able to take advantage of a powerful suite of tools and with the flexibility of Reveal's cloud environment can very easily scale to match their needs. KRCL's attorneys have been able to leverage Reveal's advanced analytics and robust review solution to significantly improve their efficiency. With Reveal's AI and other tools, they have been able to get faster and better results while dealing with large and complex data sets – all while enjoying predictable pricing that has been a great benefit to their clients.
In mid-October, Orbital Data Consulting engaged Reveal as its preferred eDiscovery and investigations software provider. Founded in 2020, Orbital is a global provider of eDiscovery consulting, digital forensics and incident response services in Europe and the United States, primarily focused on white collar regulatory investigations and complex cross-border litigation. Orbital chose Reveal after an extensive feasibility project where it rigorously tested and evaluated many of the major eDiscovery platforms. Key for Orbital were Reveal's robust data processing capabilities; advanced workflow functionality; industry-leading, game-changing artificial intelligence capabilities; and straightforward, easy-to-use interface that enables a novice reviewer to be trained and working proficiently within 20 minutes.
In late October, Epiq and Reveal announced a global enterprise license agreement for the use of Reveal's AI technology. With the agreement, Epiq, a global leader in the legal services industry, now provides all its clients with expanded access to Reveal's best-in-class legal technology solutions. Already an early adopter of Reveal AI, Epiq has extended the scope of Reveal tools its clients can use to encompass all Reveal AI features including NexLP capabilities such as its industry-exclusive AI Model Library. Epiq has long provided the Reveal AI software to legal services clients; with this agreement Epiq has expanded that capability across all business workflows whether deployed in an Epiq managed data center or in the Cloud, providing agility and flexibility for any client requirement.
In November, DLA Piper and Reveal entered into a collaboration agreement to develop innovative solutions for law using Reveal's artificial intelligence platform and DLA Piper's global legal expertise. Rolling out from early 2021, the first set of products will focus on a range of different risk scenarios and investigations and will form part of DLA Piper's Law& brand which delivers solutions beyond traditional legal services to help businesses succeed.
In December, leading international law firm Pillsbury Winthrop Shaw Pittman LLP announced it had expanded its relationship with Reveal. Pillsbury, which shares Reveal's vision of AI-powered eDiscovery, extended access to Reveal's complete next-generation platform, providing the firm with the tools and opportunities for continued advancement to develop the efficiencies and insights their clients expect.
Posts
With our posts, at eDiscovery Blog, we seek to educate and, at times, entertain. This year we brought you thoughts from Reveal's George Socha, Jay Leib, Jeff Fehrmann, Dan Fischler, Randal Girouard, Matthew, Miller, and David Shedd.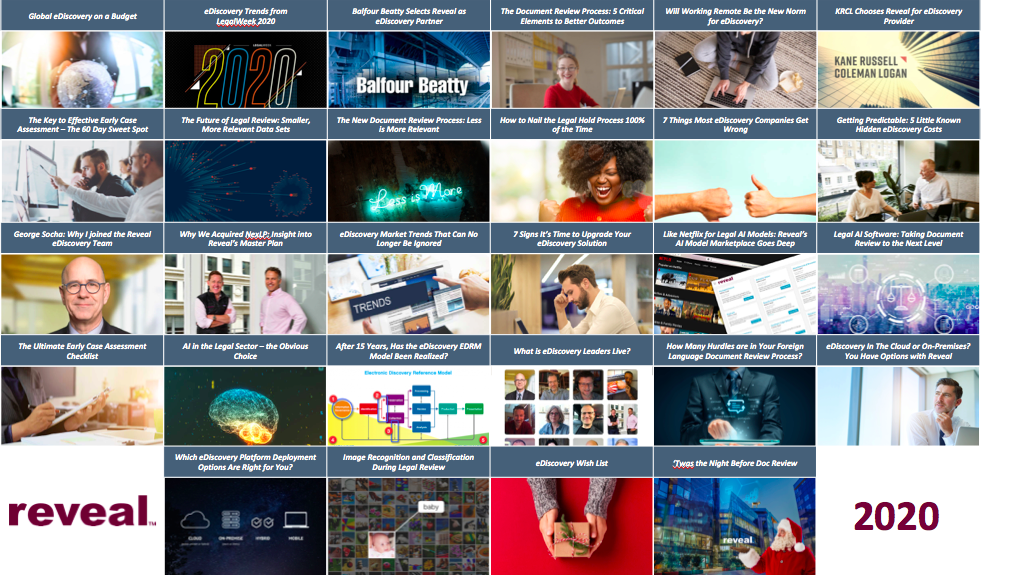 We started the year talking money with a post about Global eDiscovery on a Budget. In eDiscovery Trends from LegalWeek 2020, Matthew Miller shared thoughts inspired by the three conferences that comprised LegalWeek, the largest and longest-running trade show for legal technology.
Matthew kicked off April with The Document Review Process: 5 Critical Elements to Better Outcomes, where he broke down the five practices you should adopt for successful document reviews. Randy Girouard followed with a post tackling one of the issues of the moment, Will Working Remote Be the New Norm for eDiscovery? Jeff Fehrman then closed the month with an article about ECA, The Key to Effective Early Case Assessment – The 60 Day Sweet Spot.
From there, Jeff moved to The Future of Legal Review: Smaller, More Relevant Data Sets, where he discussed rules-based data classification, its use, and its advantages. He followed that with musings on a smarter document review process in The New Document Review Process: Less is More Relevant.
With summer, Dan Fischler brought us a quick primer with How to Nail the Legal Hold Process 100% of the Time. David Shedd warned us about the 7 Things Most eDiscovery Companies Get Wrong while offering advice on how to avoid becoming part of that club. Matthew Miller came back to close out the summer with Getting Predictable: 5 Little Known Hidden eDiscovery Costs and how to deal with them.
As the fall arrived, in George Socha: Why I joined the Reveal eDiscovery Team I wrote about what impelled me to join Reveal. On the heels of that post, we published a piece examining Reveal's biggest news of the year, Why We Acquired NexLP: Insight into Reveal's Master Plan.
We discussed some of the underlying eDiscovery challenges in eDiscovery Market Trends That Can No Longer Be Ignored and 7 Signs It's Time to Upgrade Your eDiscovery Solution. From there, David Shedd offered hope with The Ultimate Early Case Assessment Checklist.
We then turned to artificial intelligence, starting with Jay Leib's piece, Like Netflix for Legal AI Models: Reveal's AI Model Marketplace Goes Deep. I followed by laying out an AI framework and potential benefits that can accrue from the effective use of AI, first in Legal AI Software: Taking Document Review to the Next Level, next, in AI in the Legal Sector – the Obvious Choice, and then in After 15 Years, Has the eDiscovery EDRM Model Been Realized?
We took a pause from AI to address the question, What is eDiscovery Leaders Live?, then turned to turned to specific challenges and how applied AI can address them, starting, in How Many Hurdles are in Your Foreign Language Document Review Process?, with how AI can be used for translation.
We published a two-part series on eDiscovery software deployment. The first part, eDiscovery In The Cloud or On-Premises? You Have Options with Reveal, explored the four primary options. The second part, Which eDiscovery Platform Deployment Options Are Right for You?, focused on how to chose from among the options.
With Image Recognition and Classification During Legal Review, we returned to practical applications of AI in discovery. To close the year, we asked you to give us your eDiscovery Wish List and, with apologies to Clement Clark Moore, we offered a bit of poesy to entertain you this holiday season, 'Twas the Night Before Doc Review.
eDiscovery Leaders Live
As noted above, in September we launched eDiscovery Leaders Live, hosted by ACEDS and sponsored by Reveal. Each Friday morning at 11 ET, Reveal's George Socha dons a headset and for about ½ hour settles down to chat with a leader in eDiscovery. The sessions are live, and we post the recordings and transcripts at eDiscovery Leaders Live Cast.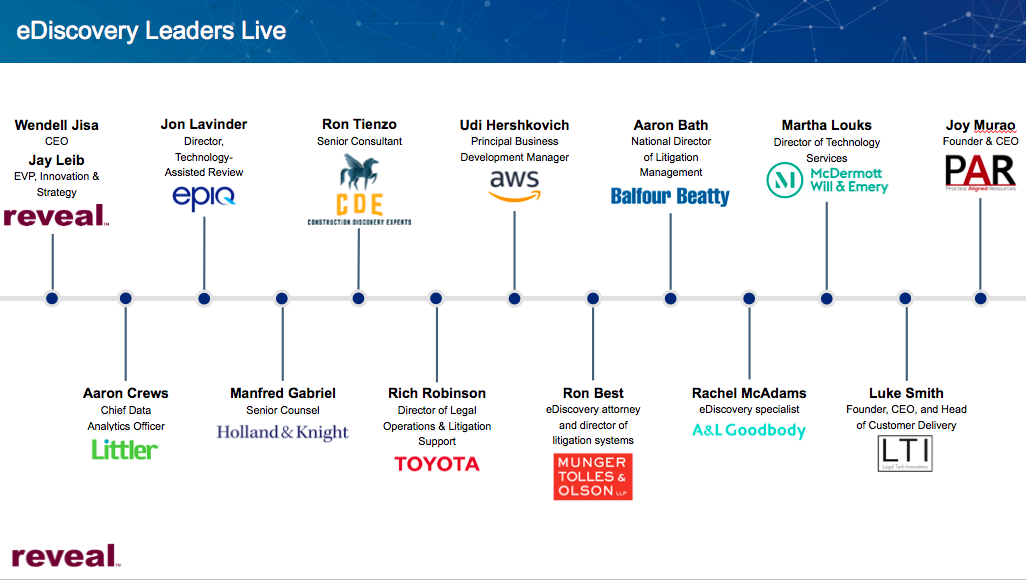 We started with a discussion with Reveal's CEO, Wendell Jisa, and Jay Leib, formerly of NexLP, about the company's acquisition of NexLP. Since then, we've talked with leaders from corporations, law firms, and service providers – all so we can share with you the benefit of their insights and forecasts. Here's this year's roster.
Aaron Crews, Chief Data Analytics Officer – Littler: We discussed what is and what is not artificial intelligence; looked at how to crawl, walk, and then run with AI in litigation; and tried gazing into our murky crystal ball to figure out where AI will take litigators in the future.
Jon Lavinder, Director, Technology-Assisted Review – Epiq: Our discussion ranged from lessons learned the hard way during the early days of technology assisted review, to how he has been able to make effective use of and then operationalize TAR, to a new service offering Epiq will be rolling out.
Manfred Gabriel, Senior Counsel – Holland & Knight: We talked about eDiscovery past and present; about the new eDiscovery capabilities Manfred has been rolling out at Holland & Knight; and about the future of eDiscovery, particularly how through effective use of AI it can reconnect attorneys to their cases, how it can help counsel find what matters most, and how lawyers can use it to build their cases.
Ron Tienzo, Senior Consultant – Construction Discovery Experts: Our discussion focused on AI, challenges with using generalized AI for discovery, and the benefits Ron has experienced using pre-built AI models as well as creating his own custom ones.
Rich Robinson, Director of Legal Operations & Litigation Support – Toyota Motor North America Inc.: We sat down to talk about what it's like to be in-house in eDiscovery. Rich shared his thoughts on the biggest issue facing eDiscovery today, ephemeral data and collaborative platforms. He suggested that to be effective, in-house personnel needed to become techno-linguists, that law firms really need to leverage their support personnel and that providers should become extensions of and partners with legal departments. Finally, Rich reminded us of the importance of becoming part of the legal community.
Udi Hershkovich, Principal Business Development Manager – Amazon Web Services (AWS): We talked about Udi's area of expertise, artificial intelligence and machine learning, and its role in litigation. We discussed how to make AI/ML accessible to everyone and examined what is meant by "artificial intelligence". Udi covered AI/ML in eDiscovery, not just for pre-processing and review but also for case assessment. We took a look at graph databases and how to have a discussion with your documents, areas with phenomenal potential. Finally, Udi left us with some thoughts on how to get started with all of this.
Ron Best, eDiscovery attorney and director of litigation systems, – Munger, Tolles & Olson: We discussed Ron's current role at Munger Tolles and then moved into a rich discussion about where Ron would like to see eDiscovery capabilities go moving forward. Ron talked about the need for full analytics functionality in eDiscovery platforms. He then laid out his vision for what an "assume everything is possible" eDiscovery system would look like, offering us a play in seven acts.
Aaron Bath, National Director of Litigation Management – Balfour Beatty US: We talked about how teaching scuba divers has made Aaron a better legal professional, the value of understanding task loading and situational awareness, and his involvement with the Dallas Area Paralegal Association and ACEDS North Texas. We went into insights he has to offer about learning and applying artificial intelligence and machine learning and the value of getting one's hands dirty, as well as advice for those wanting to move into legal operations, eDiscovery, and litigation management positions.
Rachel McAdams, eDiscovery specialist- A&L Goodbody: We discussed how Rachel made the move from plasma physics to eDiscovery, the Data Projects team at A&L Goodbody, and her thoughts and experiences bringing eDiscovery technology in house and new capabilities on board at a law firm. We also talked about the differences between building out eDiscovery capabilities at law firms and at service providers, the differences between eDiscovery in Ireland and the United States, and what a great legal community she has joined with her move to Dublin.
Martha Louks, Director of Technology Services – McDermott Will & Emery: We talked about tying together structured and unstructured data, building scalable timelines from the information, and using that content to build a fuller picture of a case. We discussed Martha's eDiscovery technology wish list, including applying advanced active learning to short messages, having early and ongoing discussions with the data, and analyzing sentiments in yet more ways. We also touched on deployment models, working with audio and video data, and the need for new standards to deal with the data coming from the different ways COVID has forced us to work.
Luke Smith, Founder, CEO, and Head of Customer Delivery – LTI: We discussed differences between civil law systems, such as they have in Belgium, and common law systems such as we use in the US; the imperative for greater efficiency driven by the constraints of civil law systems; how eDiscovery in Europe is driven more by investigations than by litigation, with Luke pointing to merger clearances as an example. We turned to the slow but growing adoption in Europe of predictive coding, advanced analytics, and AI. I had Luke gaze into his crystal ball and tell me what that adoption might look like in the future. Finally, I asked Luke what his dream eDiscovery platform would look like and he came back with the most expansive vision yet.
Joy Murao, Founder and CEO – PAR (Practice Aligned Resources): We chatted about what Joy does today and how she got there. She discussed her big missions: bridging the gap between IT and legal, connecting the dots with training and education, and bringing the value of paralegals to the forefront. I asked her advice on how paralegals can be successful in today's environments as well as how attorneys can most effectively use paralegals. Finally, we talked about Joy's ideal eDiscovery platform, which would have a strong emphasis on helping all team members work together to build cases, supported by AI that both responded and guided attorneys and paralegals alike.
As 2020 draws to a close and 2021 looms around the corner, we wish you the very best for the coming year!